If you've been injured you may be owed significant compensation. Schuster Law can help.
Questions? Contact Our Experienced Legal Team Today.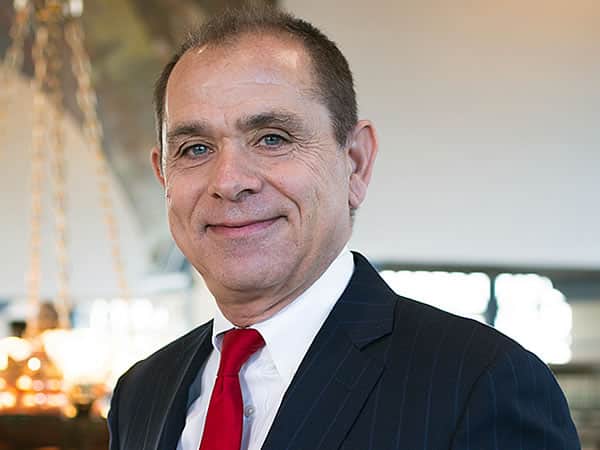 24/7 CONFIDENTIAL CONSULTATIONS
Schuster Law has been proudly representing clients with personal injury cases and other legal matters for more than 30 years. Backed by the law firm's founder, Ken Schuster, who has more than 35 years of trial experience, the attorneys at Schuster Law provide the legal help you need after an accident or during a legal dispute.
Our legal team has an undeniable passion for the law. If you've been injured in an accident, it's wise to contact our law firm as quickly as possible so that our attorneys can review your case and explain all possible legal options to you. Together, we can fight for the compensation that you deserve.
"So Grateful."

I was a construction worker until my back injury. Thanks to Schuster Law I can afford my medical bills.
Schuster Law
Reviewed by
Kenny L.
on .
Depending on your circumstances, it's always important to work with an attorney who is familiar with the type of law that your case falls under.  At Schuster Law, our lawyers are proud to work on cases that involve the following types of law:
Auto Accidents
If you or a family member have recently been involved in an auto accident that was caused by another driver or a third-party, you may be able to recover significant compensation through a civil lawsuit.
Our auto accident lawyers assist clients who have been injured in a variety of motor vehicle accidents. In addition to bus, truck, and car accident cases, we also work on cases involving:
ATV's

Commercial Vehicles

Mass Transit Vehicles

Boats

Jet Skis

Emergency Responder Vehicles
If you've been injured in an auto accident, the best thing you can do is contact an experienced attorney as quickly as possible. Proving that negligence occurred in an auto accident case can be very difficult and it's important to gather as much evidence as possible before it disappears.
Additionally, insurance companies have their own team of attorneys which is why you should have legal representation. With Schuster Law by your side, you will have the best chance of recovering the maximum compensation possible. Contact us now to learn more.
Asbestos Exposure
Over the years asbestos has been used when manufacturing a wide variety of products, like building materials, textiles, roofing shingles, sealants, and insulation. Thousands of workers have been exposed to asbestos, which is a carcinogen that can cause life-threatening medical conditions including cancer and several types of lung disease.
After inhaling asbestos fibers, it can take years, even decades for a medical condition to develop. In order for workers to prove that their illness was caused by their job, the help of an attorney is typically required.
Amputations
Did you know that if you lose a body part while at work you may be able to obtain additional compensation for your loss?
Injured workers' can obtain the coverage of their medical bills and portion of their lost wages through workers' compensation. In addition to this, the loss of a finger, thumb, hand, arm, leg, or foot entitles an injured worker to a specific loss award. But this award can be difficult to obtain without the assistance of an attorney.
If you sustained an amputation in an accident outside of work, you will need compensation to help you recover from this catastrophic injury. As you likely already know,  the surgery that occurs when the amputation is performed is just the first step on a long medical journey. Not only will the medical treatments you will require be time-consuming – these treatments will also be expensive.
Our attorneys will review your case, determine who was at fault for the accident which resulted in the amputation, collect evidence, consult with industry and medical experts, and advise you on all of your legal rights. Together we can fight for the compensation that you both need and deserve.
Construction Accidents
Construction is everywhere and construction workers are in high demand. Sadly, construction sites are one of the most dangerous places to work in the country and every single day   workers are injured in accidents that involved:
Falling Heavy Objects
Slip & Fall Accidents
Exposures To Toxins
Electrocutions
Explosions
Defective Tools
Heavy Machinery
A lack of safety procedures and poor safety equipment can also result in injuries.
If you are a construction worker who was injured on the job and we can determine that a third-party's negligence caused you to become injured, a personal injury lawsuit may help you recover the compensation that you need. Contact our local law firm today for a case review.
Family Law
Our experienced attorneys can assist with your family law case, including:
Protection From Abuse
Divorce
Legal Separation
Child Custody Disputes
Adoption
Child Support
LGBTQ Family Law
Mediation
Division Of Assets
Our legal team approaches family law cases with compassion and we provide the legal counsel you need during this time. If needed, we also work with accountants, investigators, and other consultants to ensure our clients are provided with the best assistance possible.
General & Commercial Litigation
The lawyers at Schuster Law are proud to represent clients who are involved in business-related or commercial cases. In the past, our clients have pursued legal action because of:
discrimination in the workplace
shareholder disputes
professional malpractice
landlord-tenant disputes
While our legal team is always prepared for court, in some cases arbitration and mediation may result in a more favorable outcome for our client. We take all of our client's needs into consideration and present them with each possible option.
Head & Brain Injuries
The brain has long been a mystery to medical professionals and while many advances have been made in the medical community, the full impact that a brain injury can have on an individual isn't completely understood.
What is known is that a brain injury can easily result in thousands, if not millions of dollars in medical care over a lifetime. It can also, in an instant, end a promising career.
Brain injuries aren't always obvious immediately after an accident and the symptoms can take days or even weeks to emerge. Common causes of these injuries include:
Auto Accidents
Slip & Fall Accidents
Work Accidents
Sports
Physical Assault
Even a mild brain injury can have a long-lasting impact on a patient. If you are seeking compensation after sustaining a brain injury, contact our law firm. Our lawyers will review your case and determine if you are eligible for a personal injury lawsuit or a workers' compensation claim.
Maritime Accidents
Seamen and offshore workers are entitled to compensation for injuries they sustain on the job thanks to Maritime Law and The Jones Act. The attorneys at Schuster Law represent workers who have been injured on vessels and platforms throughout the world, including territorial waters and international waters.
Medical Malpractice
Medical malpractice occurs when a medical professional fails to follow the accepted standard of care and their patient is harmed as a result. Examples of medical malpractice include:
Surgical Errors
Birth Injury
Prescription Mistakes
Anesthesia Mistakes
Misdiagnosis
Injuries Caused By Malfunctioning Medical Devices
However the malpractice occurred, patients are entitled to compensation that will help them to pay for medical treatments they now require and other losses.
Our legal team works closely with medical experts in a wide variety of specialties. Our goal is to ensure that the cause of your suffering is identified quickly and that you have the opportunity to fight for justice.
If your loved one died as a result of medical malpractice, our lawyers can also assist you with filing a wrongful death lawsuit on their behalf. Call now to schedule your consultation.
Personal Injury Law
Personal injury law encompasses a wide variety of accidents. Essentially, if someone else's negligence resulted in an accident which caused you physical harm, you may be eligible to pursue a personal injury lawsuit. Many accident victims don't even realize that they are eligible which is why you should always consult with an attorney if you've sustained an injury.
Premises Liability
Did you know that premises liability laws protect those who have been injured on another person's property because of the owner's negligence?  When poor maintenance, a failure to warn, or inadequate security measures result in harm to a visitor, they have the legal right to seek compensation for their losses.
In the past, the attorneys at Schuster Law have helped clients who sustained injuries on someone else's property because of:
a slip and fall
falling merchandise
drowning
assault and robbery
fire
electric shock
Any of these can cause serious injuries that will require a lifetime of medical care. If you are unsure if you have a case, contact our law firm today. We will perform a review and determine if you are eligible to move forward with a legal claim.
Social Security Disability
Social Security Disability and Social Security Income are two federal programs that provide benefits to disabled Americans. Unfortunately, disabled workers who are already adjusting to a new reality, dealing with the end of a career, and handling immense physical pain have to go through a complicated application process in order to obtain any sort of assistance through these programs.
Our law firm has been helping disabled workers obtain the coverage they need through SSD and SSI for decades. Don't hesitate to reach out with your questions so that we can help you get your applications approved.
Workers' Compensation
Workers who sustain an injury or who have become ill because of their working conditions may be able to obtain coverage of their medical bills and a portion of their lost wages through workers' compensation insurance. Under the law, this insurance is required by most employers.
A startling percentage of these valid claims are denied each year and then workers are often forced to go through the long and difficult appeals process. Even if a claim is approved, it is often underpaid.
Let our lawyers review your claim. Not only can we help you get the maximum payments possible but we will also review your accident to determine if you can pursue other forms of compensation such as a personal injury lawsuit.